R.P. Adams
Manufactures liquid filtration products suitable for drinking water applications and chemical filtration applications providing liquid filtration that is simple, reliable, and Efficient. R.P. Adams designs and produces a variety of automatic and manual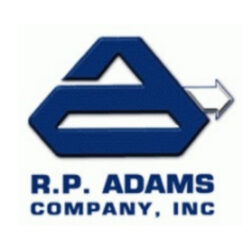 strainers with patented Automatic Backwash Strainers that are a rugged design providing reliable, efficient, un-attended operation. Also called Automatic Backflush Filters, they remove suspended solids, dirt, and debris from many different water streams and process fluids. The strainers work around the clock with minimal maintenance or operator attention. They provide cost effective continuous protection for downstream equipment, reducing maintenance and downtime for heat exchangers, spray systems, and process equipment.
Our IWF Filters Are Built-to-Last
R.P. Adams IWF filters provide a high level of filtration and reliability through a proven design. The filter has no internal moving parts reducing maintenance and operating costs. The filter backwash is operated by system pressure, or by compressed air, eliminating the need for clean water therefore reducing operating costs and the generation of wastewater. The backwash is highly effective and utilizes less than .05% of the filter throughput. The IWF Filter is a multi-element tubular filter designed to remove fine particulate from liquid process streams. Utilizing a filter aid precoat, it can remove particulate as fine as 0.3 micron with flow rates in excess of 2 gpm/ft2 of filter area. IWF filters are built to last, they have no moving parts which reduces the amount of maintenance required and lowers operating costs. The rugged filter elements are designed to be cleaned in place by backwashing. Many installations have experienced element life of over 25 years. The rigid nature of the elements provides reliable support of the precoat media even in the event of pressure or flow fluctuations assuring effluent quality. Other types of filters can flex due to changes in pressure or flow causing the filter media to crack, allowing contaminates to pass down-stream.
Custom Engineering Available
R.P Adams has been designing and engineering filtration systems for more than 70 years. We can meet your filtration needs from process analysis, system design & engineering to equipment supply and start-up services. Based on years of experience, R.P. Adams will analyze your filtration requirements and provide a custom engineered and fabricated system to meet your process needs. Your system will be custom designed in all aspects, including: the physical requirements of your plant, the selection of materials, process equipment, instrumentation, and controls. Additionally, the filtration system can be skid mounted with all the components thoroughly tested prior to shipment minimizing installation costs and time. Start-up assistance, operator training, and emergency field service by R.P. Adams engineers is also available at a moment's notice. Our IWF filters can be skid-mounted to fit your process problem. We are a leader in bleach filtration, and our products have also been successfully used for drinking water applications. Learn more here (link to process solutions) about why R.P. Adams is the right partner to develop process solutions for you.