MUNIPAC® / Patterson Pump Stations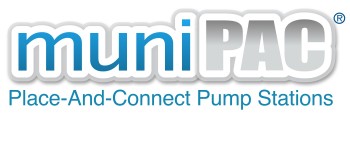 Patterson MuniPac's are available in horizontal or vertical configurations. H2O Works™ End Suction Pumps are supplied as standard and feature a rear pull-out design and a 175 psig rating. HSC, vertical in-line and vertical turbine pumps are also available. MuniPac system designs accommodate flows from 100 gpm to over 14,000 gpm and pressures exceeding 300 psi. PLC control is standard, offering low-suction-pressure, auto-shutdown with reset and automatic pump alternation.
These factory-assembled prepackaged pump systems are shipped complete with simplified lifting devices. A variety of building types, exteriors and architectural finishes are available to meet virtually every need.
Visit us at MUNIPAC® MUNICIPAL SYSTEMS